Transcriptions & Arrangements No.1 :
24th July 1956 – 19th March 2018
From 1980 to 2013, James Wishart was a Lecturer in Composition at the University of Liverpool. As well as his work for the University, James made a substantial contribution to the musical life of the city: as a composer, a performer and as a concert organiser. James often organised different series of eclectic music, ranging through jazz and folk styles to recitals of classical and contemporary music. An early concert series: Upbeat to the Tate, presented new work as part of the celebrations for the opening of the new Tate Gallery in the Albert Dock. Another: The Electric Concerts, brought together live music and electronics in arts centres across the region.
James was a formidable pianist and gave many concerts over the years, often of challenging and virtuosic pieces. He also conducted, organised and ran the University new music ensemble Opus. He received many commissions for his compositions, and had pieces played by the Royal Liverpool Philharmonic Orchestra and broadcast on Radio Three.
His compositions explore many different facets of music. There are settings of pre-existing texts (The Colours are Screaming sets texts by Edvard Munch and The Punishment of Lust includes texts by Samuel Beckett, Luigi Illica and Pierre Jean Jouve); there are many chamber pieces, some including electronics (two string quartets: Siva Dances, The Leaving of Liverpool); and works for solo piano (King Arthur: his funeral march, The knowledge and the dream are one…). His last work was for five players and a soprano to his own texts, the extraordinary 23 Songs for a Madwoman.
His boundless energy and enthusiasm will be sorely missed . . .
Threnos: Zerrissen: Headsong
For solo oboe/cor anglais, solo bass clarinet and ensemble
Orpheus had lost Euridice on the way back from the underworld through impatience and distrust. Turning around, he just catches sight of Euridice as she is pulled back to Pluto's realm. He is desolate, a broken man. Alone on the plains of Thrace, he cannot contain his sorrow and pours it out in a mixture of lamentation and anger.
Some versions of the myth characterise Orpheus as being so hysterical and beyond redemption that he curses womankind. Whatever the provocation, the Furies (wild women with their own destructive avenging agenda) cluster around Orpheus and attack him, literally pulling him apart. Their destructive powers sated, they leave Orpheus' body in many pieces – but his head floats down the river, and starts to sing its own renewed melancholy song – of despair, of regret, of love.
This dark ending to the Orpheus myth provides the context of this new piece – divided into three panels: Threnos – the lament, with the Furies gradually advancing upon Orpheus: Zerrissen – the dramatic and ritual dismembering of Orpheus: and finally Headsong – the slow passage to the sea with the song miraculously intact!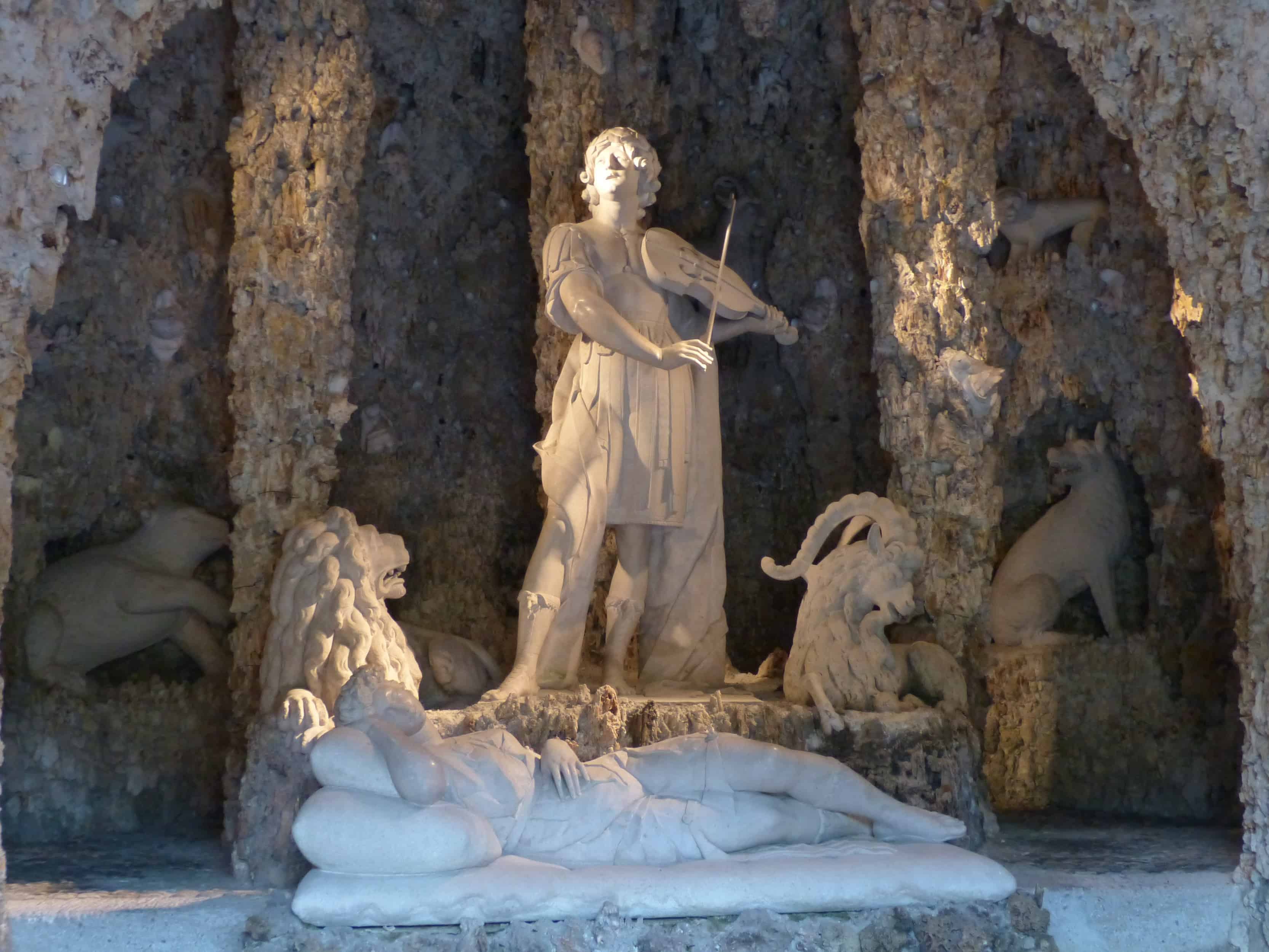 This is the second Orphic piece in a projected long-term cycle of (mostly?) instrumental works – the first – Orpheus with his lyre (for clarinet and banjo), was performed in Germany and Austria during the summer of 2002 by members of Ensemble Modern. It seems already clear that the character of Orpheus is connected to the sonority of the clarinet, as his lyre is assigned to a variety of plucked sounds (here electronically produced).
Orpheus is 'represented' by two solo wind instruments: oboe (later changing to cor anglais) and bass clarinet. This sound is 'channelled through' a further wind grouping: Four further clarinets (three clarinets in Bb and one further bass clarinet), and various interjections (used as cues) are allocated to percussion, electronics and lighting changes. The strings (five violins, two violas, two cellos and one double-bass) are the personifications of The Furies in movements 1 and 2, where a series of patterns (played from memory) are overlaid on the top of the main score. The violins and violas portray the Furies presence and action ritually, through moving 'offstage' to join the ensemble for the final movement.
For a piece written to celebrate the new studio block, you might expect a dominant electroacoustic component – for reasons of access and time this was not possible and the electronic elements are comments and interjections, which widen the range of the total sonorities available.
This recorded premiere performance (conducted by James) was engineered, mastered and produced by myself (Ian Percy) in late 2002/early 2003. I also realised and mixed the live electronics and lighting cues during the recital and prepared the concrete audio samples and synthesised sonic 'interjections' prior to performance.
It was a pleasure to be involved in this project with James and it is an honour to be able to present this fully produced and multi tracked, digitally remastered live recording of such a creatively inventive piece from such a creatively inventive musical soul.
This is for you James ...
Three Pieces from James (arranged 2018)
(Three selected pieces for solo piano)
James Wishart (1983 – 1998)
Transcribed (Arthur Sleeps) and arranged by Ian Percy (2018)
Arthur Sleeps (1983)
J.A. – The desperate search for an idea (1996)
... Eventually... a lullaby… (1998)
Given that James Wishart was a virtuoso pianist as well as a composer, his list of works for solo piano is not very large. There are many pieces that use the piano in an extravagant manner (23 Songs for a Madwoman), but it is usually found in ensembles. This might be because James had a great interest in colour and texture, and in general seemed to believe that if something is good then the more extreme the better. That said; there is often great delicacy in James' writing, which expresses another form of appreciation for timbral colour within the quieter end of the dynamic spectrum.
The three pieces presented here are from different times in James' creative life, and make a slow/fast/mixed pattern. Framed together, the pieces are rather like 'found objects', which gain in character by being offered for comparison. All three pieces are in the tradition of the 'character piece' and rather than recall The Rage over the Lost Penny by Beethoven (who James continued to loathe) one might better think of Schumann (who James loved).
The first piece (Arthur Sleeps) is very restrained indeed, and may remind some of the last of Schoenberg's Op19 set of miniatures. The second is scherzo-like, and the third has contrasting musical material where one is described in the score as 'nervous, edgy, excited' and the other as 'more tentative and hesitant'. The eventual outcome is foretold in the title (Eventually … A lullaby…), and the end of this third piece connects back to the narrative of the first, encapsulating this short collection as a fairly cohesive whole ...
Memory, Image, Trees, Song (excerpt/abridged)
Edited, transcribed, notated and arranged – Ian Percy (2018)
The quartet's title makes reference to the importance of memory as a trigger for the (sometimes embroidered) reminiscences of particular events in the composer's past.
The common feature is that of trees – there are three 'tree memories' – firstly, a memory of the jacaranda trees across the city of Sydney bursting into vivid blossom in the Australian spring (November 1985), secondly, the flowing of branches of the banyan tree in the Bogor botanical gardens in Java (December 1985) and finally, a strange picture of a solitary Oak tree in the middle of a Warwickshire field at harvest-time with enormously strong colour contrasts – golden field of corn with a totally black stormy sky (Autumn 1990). These images, each of which touch off a broader picture – of abundant and profound colour; of efflorescence; of stark contrast – are twinned in a non-programmatic way with three basic kinds of musical material which are unfolded separately and then intermingled.
Once the material was formed, musical considerations took over and governed the way in which the piece is constructed. It might nonetheless be seen as homage to the power (sometimes the distorting power) of memory to leave vivid images hovering in our minds, often for years at a time?
The string quartet from which this excerpt is taken is a deeply serious work, and like most of James' music has many bold and original characteristics. The form explores an extreme range of expression, from highly rhythmic and dissonant passages to moments of near consonant (microtonal) harmonic stasis. Indeed, one aspect of this work as a whole is its use of extended silent pauses.
Sections of this score can be quite demanding on the musicians. Whilst James was never afraid to 'ask a lot' from his performers, it was always to make a valid musical point. The reasons for the demands on technicality are usually perfectly clear audibly to the listener and essentially influential within the atmosphere, character and emotional effect of the music as a whole.
The date for this recorded performance of an excerpt from James Wishart's string quartet (edited, transcribed and arranged specifically for this recital) coincided with the day of his funeral (cremation): Monday 23rd April, 2018.
Goodbye James and rest in peace ...
James Wishart
An Introduction to 23 Songs for a Madwoman