Shellac Bowls and Radiograms
Growing up on an inner city council estate in Liverpool during the rough and ready 70s and 80s, it is fair to say that (for better or worse) Dr Ian Percy is very much a product of 'Maggie's Britain'. Although his Dad had been a teddy-boy and still sported the iconic DA hairstyle, the composer did not live in a musical household, in fact the only music in the house seemed to be a stack of old 78s in the loft that the family would occasionally melt into strange shellac moulds over the mesh guard of an open coal fire
of course, there will always be room for 'Cash and The King' ...
There was a radiogram in the living room that practically ran the full length of one wall. Council maisonettes of the 1970s were never the most spacious, but this was a behemoth piece of equipment that also served as a drinks cabinet (amongst many other things). Ian recalls discovering the true functionality of this technology at a very young age, first through the rather thin and tinny sound of the radio that only ever seemed to broadcast football commentary twice a week (never music), but then through the discovery of a very small collection of albums and singles tucked neatly away in a dark corner.
The collection was small and specific: Two Johnny Cash albums (Live at San Quentin and The Magnificent Johnny Cash), an extended length triple LP collection of Elvis Greatest Hits and a Gene Pitney Greatest Hits album. Although Gene Pitney was the album favoured by his Mum, Ian did not take to the sound at all (sorry Gene), but recalls playing the Johnny Cash and Elvis albums over and over again.
Somehow (and mysteriously), the record player on the radiogram ceased functioning (although the football commentary still managed to play twice a week) and shortly after Ian received his own portable record player as a Christmas gift. It was a tiny little thing and the albums were bigger than the actual player, but it functioned well, with an internal speaker and would run on both battery and electric (which was good, as the chances of finding [and keeping] a full set of batteries in the family home were slim to impossible). Elvis and Johnny Cash now ran on loop in the bedroom and the composer recalls internalising the lyrics to every song.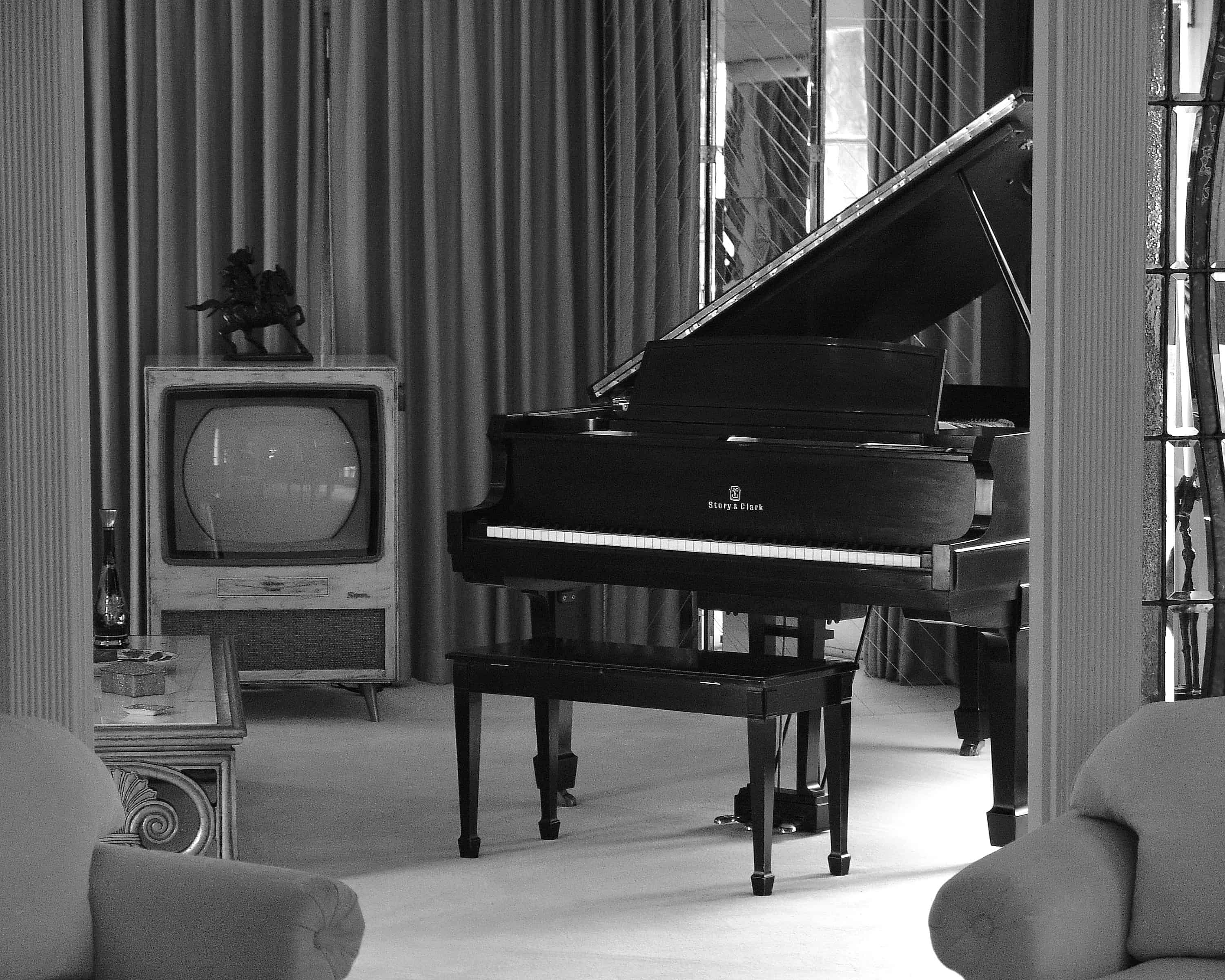 More portable (and affordable) audio technology began to filter into mass production and the family had started to listen to the BBC National Charts Top 40 every Sunday. Top of the Pops had become essential viewing. Bands like Sweet, Slade and T-Rex roared in high volume from one sibling's room, whilst the sounds of the Bay City Rollers, Bowie and Roxy Music screamed from another, but Ian never even considered extending his adopted collection, remaining faithful to Cash and Elvis for many years. Eventually albums by The Police and singles from The Clash, followed by albums from Bob Marley and UB40 would continue to shape his evolving musical tastes.
After a minor anomaly experimenting with the synthesised soundworld of 80s Rock and Pop, Ian's collection started to recognise high value in the craft of songwriting and musicianship. Bands such as The Doors, The Rolling Stones, Pink Floyd and Led Zeppelin would dominate the record collection and give stimulus to a lifelong fascination with recording technology and studio production. Artists such as Woody Guthrie, Bob Dylan, Janis Joplin, Neil Young, CSNY, Van Morrison, Jimi Hendrix, Captain Beefheart, Peter Gabriel, Roy Harper and (later) Tom Waits became primary influences (especially upon the now young songwriter)
ianpercy.me.uk
A Life in Music
Over the years, personal tastes have matured through the many styles of Folk, Rock and Jazz, evolving into an obsession for contemporary classical music of the twenty and twenty-first century and a retrospective passion for pre-baroque harmony, medieval and renaissance composition. The composer often studies the large-scale functional harmony of Classical and Romantic periods to inform elements of his own work and regularly spends time listening to plainchant vocal harmonies (amongst many other styles, genres, periods and cultures). It is fair to say that Ian's musical tastes are eclectic and you are just as likely to find him listening to Brumel, Beethoven, Boulez or Birtwistle, as you are to find him listening to The Band, The Beatles or BB King. However, when it comes to listening to music for pure Dionysian pleasure, the artists from his 'earlier years' are still the most likely sounds to be heard emanating (often in high volume) from the speakers and headphones… And, of course, there will always be room for 'Cash and The King' …
Dr. Ian Percy